Locating Lost Tickets
Wednesday, November 2, 2022
Locating Lost Tickets:
As we're still a young growing company, it's important to remember that most of your guests will be attending their first Tailgreeter tailgate with you, and you know what they say about first impressions…no pressure. In all seriousness, you've got this, but in case they get lost, we're here to help.
The App, The Easy Way:
In this scenario, the guest has the app downloaded and asks for help finding their tickets on it.
Ask them to sign in.

Have them click on the "My Tickets" tab at the bottom of the screen (Circled in yellow)

.
Have them select your event from amongst their tailgate tickets.
Scan their ticket and ask if they have any additional tickets.

If they do click on the remaining tickets and scan those tickets. The first ticket will be the ticket that you previously scanned, so skip that one.
Shared Ticket:
Shared Tickets are only available on the app, to speed check-in and ensure the new guest accepts our terms of service, which grants greater protection to our hosts. If someone, shared a ticket with a guest, then they need to register and download the app. Follow the instructions above.
No App, No Problem:
Some people don't like downloading apps, which is just fine with us. We can access tickets through the mobile site.
Scenario 1: Guest is signed into Tailgreeter.
Select the profile tab.
Select Tailgates from the dropdown menu.
Once at the tickets tab have the guest select your event and
Scenario 2: Finding the Ticket through their email:
Ask the guest to find the booking confirmation email by searching "Wallee Booking Confirmed" and select that the email.

Once you are in the email click on

View Event

:

This will take them to this login screen, where they should sign in. After they are signed in, they will be redirected to the tickets tab.

All the tickets should be visible under the tickets tab, after they select their event.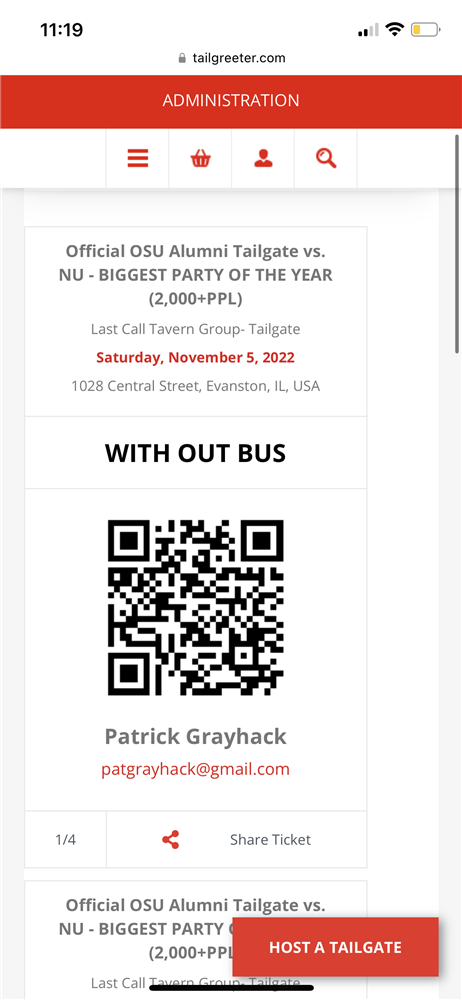 Guest Checkout:
In this scenario, the guest will have been sent their tickets via email and do not have an account to sign into. This is how all walk-up sales will occur as well.
Search for

wallee@tailgreeter.com

, which should result in the email popping up.

Search their spam for

wallee@tailgreeter.com

.

Ask them if they could have signed up using a different email address.

Check that email's spam.